Every year, Exxaro and other resource organisations are rated and compared in terms of multiple environmental, social and governance (ESG) criteria to determine which companies perform best in their respective industry sectors. The most recent ESG Report, conducted by Renaissance Capital – a leading emerging and frontier markets-focused investment bank – ranked these organisations in terms of their total performance on selected metrics, determining their total performance by tallying up rankings in each section.
Considering Exxaro's ongoing efforts to minimise our carbon footprint, promote safety at work and uplift our employees and their communities, we are proud to report that Exxaro outperformed several of our competitors in the following categories:
Environmental Resource intensity and pollution
The ESG Report's environmental criteria examine how a resource company performs as a steward of the natural environment. The category focuses on the use of natural resources, impact on climate change, and the management of pollution and waste. Here, examination centres on water usage, energy intensities, carbon footprint and the subsequent greenhouse gas emissions produced.
In an effort to better lives in Africa and beyond, and to reduce our carbon footprint, we at Exxaro believe that investing responsibly and strategically in commodities will help to sustain life on the continent. For example, Exxaro contributes to South Africa's national energy supply through Cennergi – a joint venture with Tata Power. Together, we have implemented two wind energy projects in the Eastern Cape, the Amakhala Emoyeni and Tsitsikamma Community Wind Farms, which began commercial operation in the third quarter of 2016.
Exxaro also participates in the Carbon Disclosure Project (CDP), which requires South Africa's top listed companies measure and disclose what climate change means for their business, and their related responses to the risks and opportunities. Exxaro is well-represented on the CDP's Carbon Disclosure Leadership Index, where companies, having demonstrated exceptional transparency, data management as well as climate risk response and actions, are evaluated on a predetermined point system.
Through efforts such as these, Exxaro has reduced our greenhouse gas (GMG) emissions by 17% per copper equivalent unit over the past five years.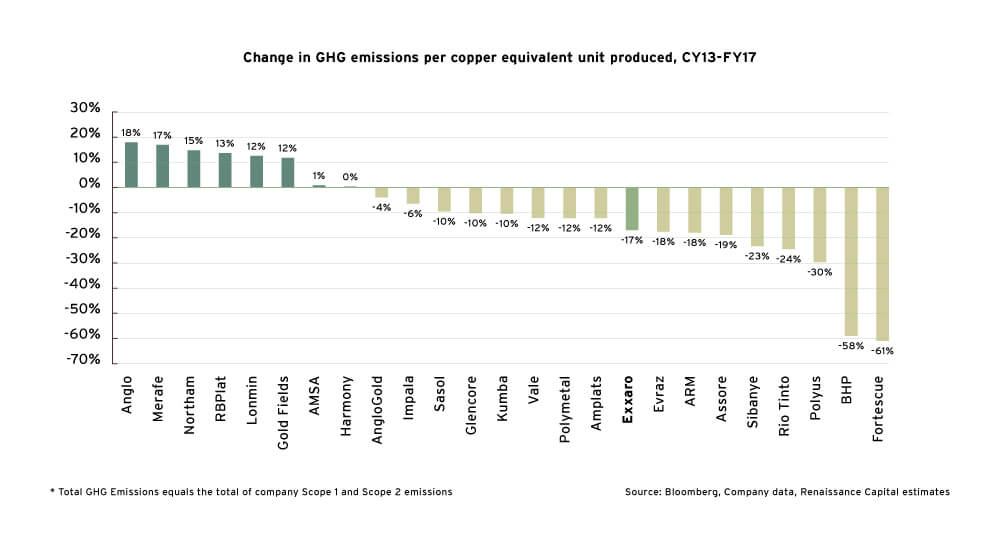 Social Safety and community relations
The ESG's social criteria consider how a company manages relationships with its employees, suppliers, customers and the communities where it operates. The focus here is on employee safety, training costs and community spend. Poor safety could result in unnecessary danger to our employees, lower productivity, higher staff turnover, damage to property, increased costs, potential prosecutions and more.
At Exxaro, we strive to conduct our business activities in a way that creates success not only for our company, but for society too. From how we mine to what we mine, we're stewarding our natural-, and social capital, and using them both to build happy, healthy communities and a better place to live. Everything we do today is geared towards ensuring a safer and more productive tomorrow.
Exxaro follows the philosophy of zero-harm in everything it does and hence aims to achieve zero injuries and zero fatalities by setting targets to improve safety performance each year. This is measured by means of the Lost Time Injury Frequency Rate (LTIFR), a standard framework in the mining industry. The chart below shows that SA platinum and gold miners report a higher rate of lost time injuries than the industry average. Exxaro, however, ranks third with the lowest LTIFR.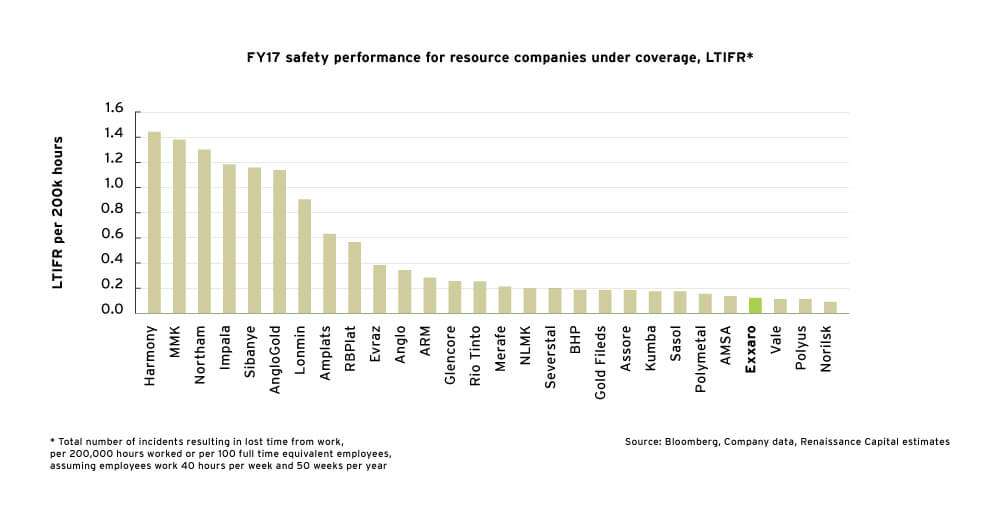 Governance Board independence and executive compensation
Corporate governance focuses on executive compensation, shareholders' rights, board diversity and accountability. Specifically, the focus of this section in the ESG Report is on board independence and executive compensation.
At Exxaro, corporate governance is the set of processes, customs, policies, laws and institutions affecting the way our company is directed, administered and controlled. Important aspects of this are the nature and extent of our leaders' accountability, our relationships with stakeholders and our acknowledgement of their roles, responsibilities, interests and rights.
Exxaro is committed to applying the principles of the South African governance standard known as King IV, and we understand that effective practices should be embedded in all our business processes. We believe that both our licence to operate and sustainability depend on being a responsible and accountable corporate citizen.
The below chart shows executive compensation relative to the average salary per employee. The pink line equates to a 25x relationship between executive compensation and average salary per employee. You can see Exxaro has narrowed our pay differential by more than 30% over the 2017 fiscal year period.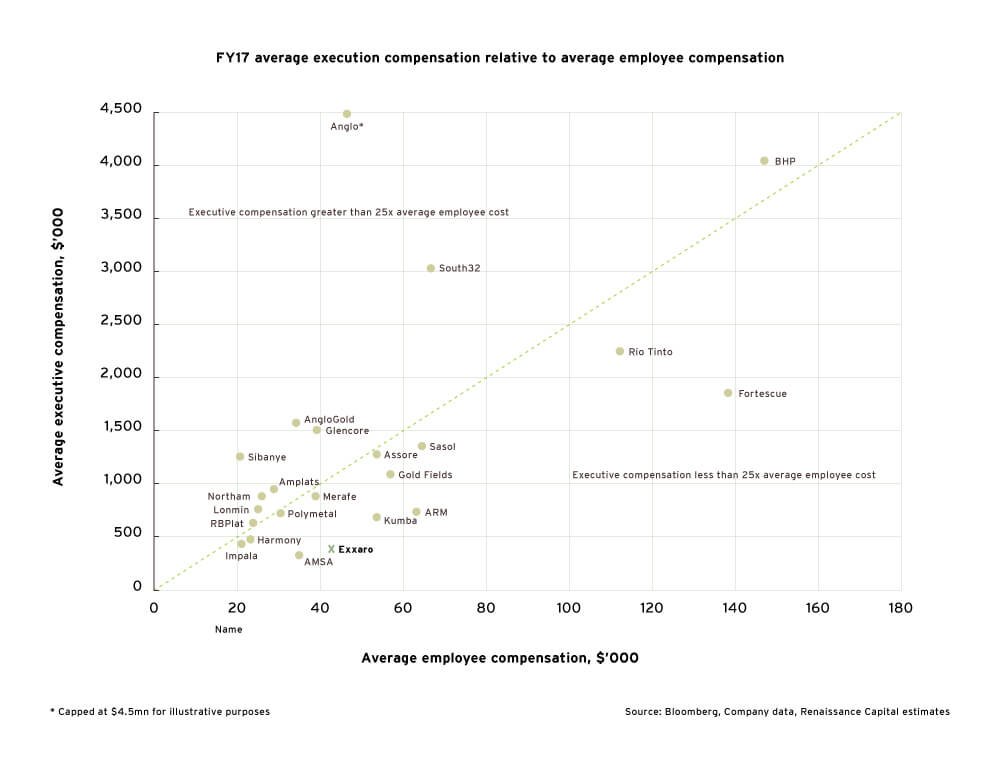 Final result
By participating in renewable energy initiatives, Exxaro ensures that we contribute significantly to the national energy supply and reduce our carbon footprint. Through our ongoing commitment to providing a safer work environment for employees, we see our LTIFR reducing year on year, and by developing our people and rewarding top performers we've managed to narrow our pay differential. As a result of our efforts, Exxaro was ranked highest overall in terms of our total ESG performance in Renaissance Capital's report.